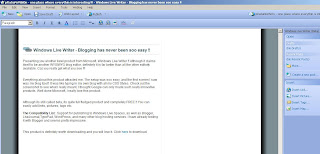 Presenting you another kewl product from Microsoft. Windows Live Writer !! Although it claims itself to be another WYSIWYG blog editor, definitely it is far better than all the other editors available. Coz you really get what you see !!!
Everything about this product attracted me. The setup was soo easy, and the first screen I saw was my blog itself. It was like typing in my own blog with all my CSS Styles. I thought Google can only make such really innovative products. Well done Microsoft, I really love this product.
Although its still called beta, its quite full fledged product and completely FREE !! You can easily add links, pictures, tags etc.

The Compatibility List : Support for publishing to Windows Live Spaces, as well as Blogger, LiveJournal,TypePad, WordPress, and many other blog hosting services. I have already testing it with Blogger and seems pretty impressive.
This product is definitely worth downloading and you will love it. Click here to download.
Things missing were - I was not able to upload image directly. So i had to later edit again using blogger editor. Also labels were missing. Hope they fix it fast.