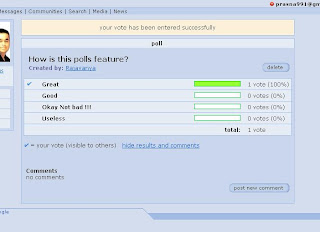 Well its another cool feature that Orkut added yesterday (thats when i saw it..) You can create polls now in Orkut !!!
You can create multiple options, comments and picture for every option and the question too !!! But I wasn't able to figure out why polls were not appearing in some communities
Then i found this note the help section
**We're rolling out polls to some of the smaller communities in orkut first. Please note that it may take a week or two for the polls feature to be available in all communities.
Keep it up Team Orkut....