Wednesday, January 23, 2008
The 'F' word. I am sorry that I can't give an introduction for this. One of the most critisized, forbidden yet widely used word in the English language (Courtesy: Hollywood Movies).
Google trends is a cool service still resident in google labs which gives geolocation and other statistics about searches made on google. My mind just got crazy to get the statistics for the 'F' word.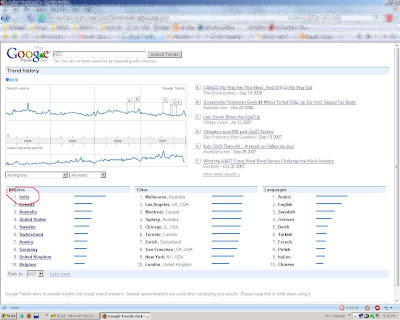 Shocking results revealed India on the top for the search.



Extra bits:-

Though India did not top the world for the word 'sex', Delhi and Chennai are on the top 2 cities in the world for the same. :(


Google Trends

Google Trends result for the word 'sex'